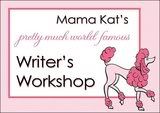 I was out of town for a few days this week so I'm a little late with this post! But I figured
what the heck I will post it anyway!
The writing prompt I chose for this week....
1.) If you could do it over again…
There isn't much I would do different because if I changed anything I wouldn't be where I'm at today? There area few things that I wish I would have done back in the day but not a lot that I would do over again?
I would have moved to NYC before I was married and had my daughter. Even if it was just for a summer - i would love to have lived in the city.

I would go back and change my attitude to HS and my grades.

I now probably would have chosen a different major in college

I should have never taken my last job - or stayed at it as long as I did - so much for thinking change was coming in a positive way.

I wish I got married a little earlier and had kids a little younger but Hey things happen for a reason!

I wish I wouldn't have let my husband talk me into moving when we decided to "live together" before we got married. I loved my townhouse! The move in together then involved 2 moves within 15 months -Uggh!



Along with all the things I wish I could do over ... A couple of things that I wouldn't want to change
I'm glad I talked my friends into going downtown one Saturday night when part of the group wanted to go to the local bars. - If I never went with my friend I would have never run into my husband at a random bar. 14 years later we meet in a random bar after meeting the 1st time in our college dorm freshman year. - i know crazy!

So happy that I got pregnant when I did as it was the best thing that every happened to me - minus of course all the damage the pregnancy did to my body!
Now it's your turn - what would you do over again if you had the chance?